Tuesday, November 1, 2022
5:30 PM to 7:30 PM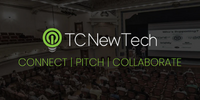 Innovators, inventors, and other out-of-the-box thinkers pitch their ideas and connect with the resources needed to launch.
Join the TCNewTech Community for our Pitch & Networking Event on Tuesday, June 7, 2022, at The City Opera House or via YouTube, Facebook, or LinkedIn from your own device.
Here is the schedule:
Details:
(Tonight) Tuesday, July 5, 2022, at The City Opera House
Here is the schedule:
5:30 PM Cash Bar
& Networking
at City Opera House
6:00 PM Premiere of Rural Edge video
6:15 PM(Reverse) Pitches Begin
7:15 PM Investor Panel Discussion
7:30 PM Winners Announced!
Make sure to Register: https://app.tcnewtech.org/
About: Each presenter will be allowed 5-minutes to present their business or new technology and 5-minutes of questions and answers. Similar to the show "Shark Tank" with one exception -- our audience decides by a text vote which startup will receive the $500 cash prize provided by Cambium Analytica!
Our audience is made up of technology-minded people and consists of programmers, IT staff, people looking for opportunities for their tech company, tech companies looking for staff, individuals looking for an investment opportunity, start-up founders looking for investors, and tech geeks that just like learning about new things.
Relevant community updates are encouraged during our events!
If you would like to present at a TCNewTech Pitch Event, please visit https://tcnewtech.org/pitch/ or contact executivedirector@tcnewtech.org.
City Opera House
106 E. Front Street
Traverse City, MI 49684