Mission
Inspiring a lifetime of Great Lakes curiosity, stewardship, and passion in people of all ages.
About Us
We engage youth in hands-on STEM experiences on our 77' schooner and on shore. Students learn about Great Lakes ecology as they collect and analyze Great Lakes samples, including fish, plankton, and organisms that live along the bottom (benthos). Participants use scientific equipment that real scientists use and they assist the crew to raise the anchor, hoist the sails, and steer the ship. Programs range from a few hours to multiple days.
In our ROV Engineer and Explore program, students learn to collaborate in teams to design and build an ROV and complete specific missions. Participants engage with engineering practices and learn how technology can help us observe and protect the Great Lakes.

Find our current job openings on our Join Our Team page. Our volunteer opportunities are also a great way to grow your skills and make connections.
Contact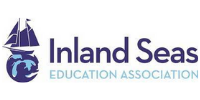 Inland Seas Education Association
100 Dame St #218
Suttons Bay, MI 49682
Careers
| | | | |
| --- | --- | --- | --- |
| | Work to help improve humanity's understanding of the environment, how to protect it, and our place in it. | More | |
| | Work to bridge the gap between the edge of scientific discovery and the general public. Make science accessible to all. | More | |
| | Pilot all types of watercraft, making sure they reach their destination safely. | More | |
| | Design strategies and methods for good water resource management. | More | |
Career Experience Opportunities
Other Partnerships
ISEA partners with multiple colleges and universities including the Northwestern Michigan College Freshwater Studies, Western Michigan University Freshwater Science and Sustainability, the University of Michigan School for Environment and Sustainability, Lake Superior State University, University of Wisconsin-Milwaukee, Michigan Technological University, and Penn State - Behrend. We also partner with various organizations including Michigan Sea Grant, Thunder Bay National Marine Sanctuary (NOAA), Grand Traverse Band of Ottawa and Chippewa Indians, Watershed Center of Grand Traverse Bay, Sleeping Bear Dunes National Park, Michigan DNR and several more.