Mission
American craftsmanship drives our mission to Make It Better — for businesses, brands, and event agencies. We focus on continually improving three facets of our organization to serve our customers better—SPEED, QUALITY, and CUSTOMIZATION.
About Us
The "TentCraft Promise" is simple. It's a declaration that we (TentCraft) want to enter a domestic partnership with you (amazing client.) We pledge to do whatever it takes to make our "long distance romance" work (even if you decide you want to study abroad for a semester and we know you kissed Fabrizio in Venice.) We'll even change our Facebook status to "in a relationship" if you want us to…. When you purchase a tent from us, it might as well be a wedding ring. For better or for worse, in sickness and in health, we will deliver the highest level of quality and client service because we think you deserve that.
One way to experience the TentCraft culture is with a temporary position. In the past we have hired seasonal employees during the summer months to help in Production (Metal Fab, eCommerce, Final Inspection & Sewing Fabrication), Marketing, Art and Sales. These temporary positions are entry level with limited to no experience necessary--we will train you. Historically we have been able to promote some temporary individuals into a full-time or part-time job if they are doing well and we have the work. Part-time schedules are typically used when working around a school schedule and business hours of operation.
Education is important to us! That's why we work closely with the Career-Tech Center, do classroom presentations, and offer student internships. We participate in the NMC Career Fair and the Northwest Michigan Works Career Fairs to seek prospective employees.
TentCraft is a great place to work--we are all fun and little weird. It's one of our core values we live by: to accept everyone for who they are. We work hard, but play hard too! We have monthly company-wide lunches, company events, ping pong tournaments on breaks and wellness equipment available to use whenever you want – kayaks, stand up paddle boards, yoga in the courtyard, longboards and snowshoes.
Check out our Indeed employer profile, we are proud of our 4 star rating! https://www.indeed.com/cmp/Tentcraft
Contact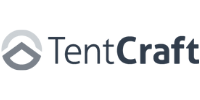 TentCraft
2662 Cass Rd
Traverse City, MI 49684
Careers
| | | | |
| --- | --- | --- | --- |
| | Set up and operate CNC machines and equipment. | More | |
| | Develop programs to control the machining or processing of metal or plastic parts. | More | |
| | Drive the design and development of manufactured products and manage manufacturing processes such as quality control and process optimization. | More | |
| | Create systems and products or design the way things are made. | More | |
Career Experience Opportunities
Other Partnerships
We sit on the NMC Advisory board as a business advisor for the School of Business. We have employees participate in the LEAN training certification through NMC.