Mission
Ensuring that travelers passing through the terminal are able to arrive safely to their final destinations.
About Us
Cherry Capital Airport (TVC) has operated passenger air service in the Northern Michigan Region since establishing in 1938 with Penn Central Airlines. Today, TVC is served by four great carriers: American, Delta, and United, and now Allegiant. Owned and operated by the Northwest Regional Airport Authority (NRAA), TVC is the gateway to Northern Michigan. TVC connects travelers from across the globe to a wide variety of businesses and leisure activities throughout the area. A 2017 Michigan Department of Transportation study found that TVC contributes nearly $1 billion annually to the state and local economy, supporting 1,377 on-site jobs and an additional 3,169 off-site jobs.
We support youth and adults work experiences in many ways, such as internships and job shadows.
Contact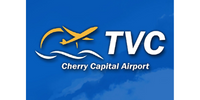 Cherry Capitol Airport
727 Fly Don't Drive
Traverse City, MI 49686
Careers
| | | | |
| --- | --- | --- | --- |
| | Work with financial data, write reports, and analyze records to help companies and people manage money. | More | |
| | Control air traffic on and within area around airport. Conduct movement of air traffic between altitude sectors and control centers, according to established procedures and policies. | More | |
| | Perform maintenance and repairs to many types of aviation equipment. | More | |
| | Work on the internal systems of aircraft, including radar, radio, navigation and more. | More | |
| | Pilot and navigate the flight of fixed-wing aircraft on nonscheduled air carrier routes, or helicopters. | More | |
| | Install, maintain, and repair electrical wiring, equipment, and fixtures. | More | |
| | Install, service, or repair heating and air conditioning systems in residences or commercial establishments. | More | |
| | Work to maintain, install, and upkeep the machines that allow production facilities to run smoothly. | More | |
Career Experience Opportunities