Mission
Restoring hope and freedom through rehabilitation.
About Us
Mary Free Bed Rehabilitation Hospital has many opportunities for students to get involved. Volunteers provide assistance in a variety of roles within departments all over the hospital. Each and every volunteer opportunity is instrumental to delivering quality care, and provides the opportunity to gain hands on experience within our facility. Job shadows allow for students to get a look inside career professionals in a wide variety of disciplines, and for those who are interested in a specific role. Career Seminar is another opportunity that we have for students who are undecided about their career path and want to learn about different roles within our hospital and hear about education requirements, salary, a day in the life, and much more!
In addition to the affiliated careers below, Mary Free Bed also hires Physiatrists, Recreation Therapists, Neuropsychologists, Behavioral Therapists, CENA, Massage Therapists, Psychologists, Rehab Technicians, Speech and Language Pathologists, and Vision Rehabilitation Therapists!
For more about working at Mary Free Bed and our current job openings, go to our Careers page.

Contact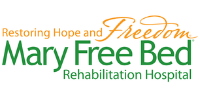 Mary Free Bed
550 Munson Ave
Traverse City, MI 49686
Careers
| | | | |
| --- | --- | --- | --- |
| | Care for ill, injured, or convalescing patients or persons with disabilities in hospitals, nursing homes, clinics, private homes, group homes, and similar institutions. | More | |
| | Perform administrative and certain clinical duties under the direction of a physician. | More | |
| | Provide basic patient care under direction of nursing staff. | More | |
| | Help persons with disabilities or developmental delays to develop skills to get through life. | More | |
| | Assess, plan, organize, and participate in rehabilitative programs that improve mobility, relieve pain, increase strength, and improve or correct disabling conditions resulting from disease or injury. | More | |
| | Assist physical therapists in providing physical therapy treatments and procedures. | More | |
Career Experience Opportunities
Partner Of...