Mission
Thompson Surgical Instruments is the leader in the retractor field for quality, innovation, and customer service. We will strive to maintain this position and continue our "Relentless Pursuit of Perfection."
About Us
The Thompson Retractor has been on the market for over 50 years. Thompson Surgical Instruments has been in business locally for 38 years and is a worldwide industry leader in the design and production of retraction instruments used by surgeons. Thompson believes in listening to user feedback as well as 100% customer service and quality, which is how they have developed some of the most popular and effective surgical retractors in the world. Continuous innovation and improvement, both in our business models and product offering, give Thompson a leading edge on the competition, proven by their strong employee tenure, new product launches, extensive patent portfolio, and continuous sales growth.
Based in Traverse City, Thompson operates out of three buildings including a state of the art manufacturing facility, Administration, Sales, Engineering, Research & Development, and Quality offices. Thompson is employee-owned which connects every employee directly to the business and promotes stewardship. Thompson is a considered "critical infrastructure" or an "essential business" and is pleased to provide customers with lifesaving, and life-changing, devices throughout all world circumstances.
As a leader in our industry, Thompson Surgical Instruments provides a challenging, team-oriented, healthy, fun, and rewarding work environment that our employees enjoy. Our employees are the backbone at Thompson and are proud to be members of our team. Opportunities for youth to explore careers include internships and mentor programs.
Hear more about working at Thompson Surgical from our team, as well as our current job openings on our Careers page.
Contact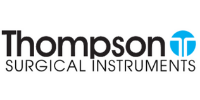 Thompson Surgical Instruments
10341 East Cherry Bend Road
Traverse City, MI 49684
Careers
| | | | |
| --- | --- | --- | --- |
| | Apply knowledge of engineering, biology, and biomechanical principles to the design, develop, and evaluate biological health systems and products. For example, artificial organs, prostheses, instrumentation, medical information systems and more! | More | |
| | Support engineers to plan and design tools, engines, machines, and other manufacturing equipment. | More | |
| | Use machine tools, such as lathes, milling machines, and grinders, to produce precision metal parts. | More | |
| | Perform engineering duties in planning and designing tools, engines, and machines. | More | |
| | Welders form and join metals to perform a designed function for a product within a manufacturing facility, or onsite construction and repairs. | More | |
Career Experience Opportunities
| | | |
| --- | --- | --- |
| | More | |
| | More | |
| Try on an industry and/or company, is it mutually a good fit? | More | |
Other Partnerships
Partnership with the Grand Traverse Area Manufacturing Council