Mission
To manage the Grass River Natural Area, conserve and protect its watershed, and provide opportunities that increase knowledge, appreciation and community-wide stewardship of the natural environment.
About Us
Grass River Natural Area is a 1,492 acre nature preserve surrounding the Grass River, located in the heart of Antrim County. Along with the beautiful views of Grass River, we also offer seven miles of well-maintained trails including 1.5 miles of boardwalk floating above northern fen and cedar wetlands. With all of these natural features, Grass River Natural Area offers visitors an outdoor, living laboratory to explore and learn. The Grass River Center is open year-round, offering a comfortable learning environment for public programming, school field trips, camps, and more.
Explore our current employment and internship opportunities. Our many volunteer positions also provide great work experience for your resume!
Contact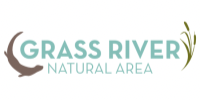 Grass River Natural Area
6500 Alden Highway
Bellaire, MI 49615
Careers
| | | | |
| --- | --- | --- | --- |
| | Work to help improve humanity's understanding of all types of life in and around water. | More | |
| | Work to help improve humanity's understanding of the environment, how to protect it, and our place in it. | More | |
| | Study the distribution, circulation and interaction of water with the environment, people, animals, and other living things. | More | |
| | Work to bridge the gap between the edge of scientific discovery and the general public. Make science accessible to all. | More | |
Career Experience Opportunities