Mission
To provide accessible, trusted and compassionate care that enhances quality of life for aging adults.
To be the region's trusted partner and recognized leader for successful aging services.
Our core values include:
Collaboration – We believe the best environment relies on open communication, cooperation and inclusiveness which promote teamwork and accountability.
Compassion – We strive to deliver care in a most loving and empathetic manner as we would care for our own family.
Excellence – We strive to perform at the best of our abilities each day, seeking continuous learning opportunities and improvements that lead to best practices.
Innovation – We encourage curiosity, creativity and resourcefulness to address our challenges.
Integrity – We strive for an atmosphere of mutual trust and respect in our dealings with our residents, their families, co-workers, volunteers and vendors.
Positivity – We believe a vibrant and fun workplace inspires greater outcomes.
Security – We strive to provide a safe and secure environment for all persons to be free from harm and exploitation.
Servanthood – We strive to humbly serve our residents by meeting their medical and social needs.
Stewardship - As a public non-profit, we strive to be responsible in the use of our limited resources in a wise and efficient manner.
Learn more about our current job openings here.
About Us
The Grand Traverse Pavilions has a history of care that spans more than a century. Today, the Pavilions serves as a community resource and a continuum of care for our region's aging population. The Cottages of Grand Traverse Pavilions offer services and amenities that enhance the quality of life of older adults.
With one in three individuals in our service area now over the age of 60, services directed to this demographic have never been more needed or important. Grand Traverse Medical Care provides 24-hour skilled nursing care as well as a broad range of therapeutic, recreational, and nutritional services to 201 long-term care residents.
The Pavilions is owned by Grand Traverse County and operated by the Grand Traverse County Department of Health and Human Services Board and committed to enhancing the quality of life for aging adults and caregivers. The CEO/Administrator is Rose Coleman. Home to more than 300 residents and more than 400 employees, the 28-acre campus is rooted in a rich history that dates back to the early 20th Century. The unique architecture emulates the 19th Century buildings on site, intricately balancing state-of-the-art accommodations with modern amenities. Fiscally self-sufficient for over two decades, Grand Traverse Pavilions provided more than $4.5 million last year in benevolent care to members of our community.
Contact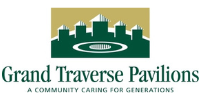 Grand Traverse Pavilions
1000 Pavilions Circle
Traverse City, MI 49684
Careers
| | | | |
| --- | --- | --- | --- |
| | Work with financial data, write reports, and analyze records to help companies and people manage money. | More | |
| | Provide technical support, advice, and assistance to consumers and businesses with technical, hardware, and software system problems. | More | |
| | Care for ill, injured, or convalescing patients or persons with disabilities in hospitals, nursing homes, clinics, private homes, group homes, and similar institutions. | More | |
| | Provide basic patient care under direction of nursing staff. | More | |
| | Help persons with disabilities or developmental delays to develop skills to get through life. | More | |
| | Assess, plan, organize, and participate in rehabilitative programs that improve mobility, relieve pain, increase strength, and improve or correct disabling conditions resulting from disease or injury. | More | |
| | Assist doctors to assess patient health problems, determine needs and develop and implement care plans. | More | |