Mission
To be the best at designing and delivering technical, operational and financial solutions to enhance the efficiency and competitiveness of our commercial aviation and government customers.
About Us
AAR Mobility Systems is a leading global supplier of rapid deployment equipment including mobile tactical shelters, pallets and expeditionary containers that enhance military commanders' ability to mobilize, deploy, maneuver and sustain forces. We also manufacture large lightweight structural assemblies and platforms that support mission essential functions. We support our products through a network of service centers, field service teams and strategic partners.
Our business provides cargo management systems and hard-sided, integrated shelters for military use.
We employ makers (welders, machinists, assemblers, painters and others) as well as technical careers (engineering, quality management) and support services (human resources, supply chain management, accounting, contracting, customer service, business development and more).
"Military veterans make up 24% of AAR's U.S.-based workforce, and nearly half of the company's business relates to government and defense operations. AAR actively supports veterans in recruitment, hiring, and employee recognition practices and celebrates veterans' contributions — not just on Veterans Day, but every day."
See current job postings here.
Contact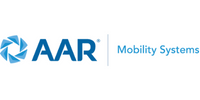 AAR Mobility Systems
201 Haynes St.
Cadillac, MI 49601