Mission
We deliver lifelong learning opportunities to transform lives and enrich our communities.
About Us
Northwestern Michigan College (NMC) offers degrees and certifications in over 80 areas of study in Traverse City. We offer 2-year degrees (Associates), Certificates and a small number of nationally recognized 4-year (Bachelor's) degrees. NMC also has many transfer agreements to colleges including Northern Michigan University (NMU), Michigan Technological University (MTU) Michigan State University (MSU), Central Michigan University (CMU), and more! There are many ways attending NMC can save you time and money as you discover and pursue the next step in your career path.
Dual enroll as a high school student or enroll concurrently at a university and your community college to get ahead!
(GVSU & NMC concurrent enrollment form.)
NMC uniquely provides every enrolled student with a Success Coach to help work through barriers and enable every student to achieve their full potential. A nearly $2M scholarship fund enables many students to qualify for and receive need-based and/or academic scholarships.
NMC has a program that can help you gain skills and experience for almost every career on the Career Investigator!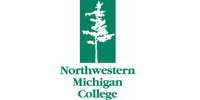 Northwestern Michigan College
1701 E Front St
Traverse City, MI 49686
Careers
| | | | |
| --- | --- | --- | --- |
| | Pilot and navigate the flight of fixed-wing aircraft, usually on scheduled air carrier routes, for the transport of passengers and cargo. | More | |
| | Do you want to work with computers and technology? Are you interested in the science behind sound? | More | |
| | Diagnose, adjust, repair, or overhaul automotive vehicles. | More | |
| | Test, adjust, or repair biomedical or electromedical equipment. May troubleshoot, install, and maintain medical devices used in patient treatment and diagnosis. | More | |
| | Pilot and navigate the flight of fixed-wing aircraft on nonscheduled air carrier routes, or helicopters. | More | |
| | Code multifaceted, immersive VR apps and games that can run on the web and various platforms. | More | |
| | Protect computer networks and the information within them. | More | |
| | Assist dentist, set up equipment, prepare patient for treatment, and keep records. | More | |
| | Operate a drone safely. Launch, land, and navigate the skies! | More | |
| | Drive the design and development of manufactured products and manage manufacturing processes such as quality control and process optimization. | More | |
| | Support engineers to plan and design tools, engines, machines, and other manufacturing equipment. | More | |
| | Work to help improve humanity's understanding of the environment, how to protect it, and our place in it. | More | |
| | Compile, process, and maintain medical records of hospital and clinic patients in a manner consistent with medical, administrative, ethical, legal, and regulatory requirements of the health care system. | More | |
| | Provide technical support, advice, and assistance to consumers and businesses with technical, hardware, and software system problems. | More | |
| | Work with technology specifically designed to operate in a marine environment. | More | |
| | Assist doctors to assess patient health problems, determine needs and develop and implement care plans. | More | |
| | Pilot all types of watercraft, making sure they reach their destination safely. | More | |
| | Research, design, develop, and test operating systems-level software, compilers, and network distribution software. | More | |
| | You'll prepare operating rooms and patients for surgery and help surgeons and nurses during surgery by passing them instruments and other sterile supplies. | More | |
| | Make exact land measurements and determine property boundaries. | More | |
| | Install, configure, and support an organization's local area network (LAN), wide area network (WAN), and Internet systems or a segment of a network system. | More | |
Career Experience Opportunities
Partnerships With...
Partner Of...
A new program at Northwestern Michigan College (NMC) will help people learn the skills they need for a career in the in-demand field of highway construction. The Heavy Highway Construction Training Program is being offered by NMC in partnership with Northwest Michigan Works!, Team Elmer's, and Jobs for Michigan's Graduates. The 12-week program starts in January of 2023.